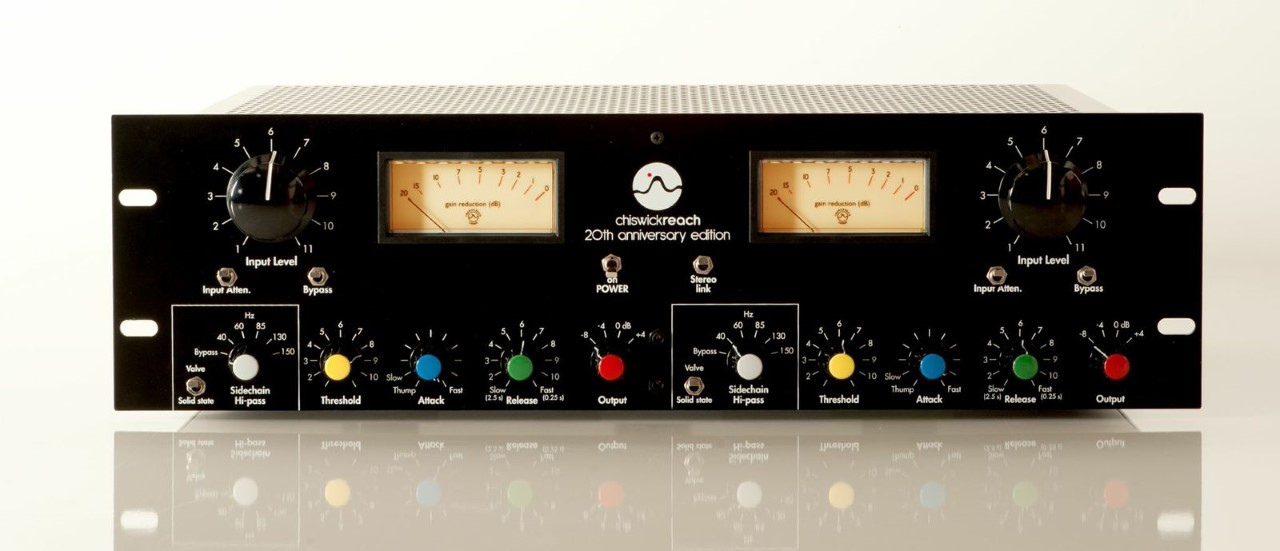 20th Anniversary Edition Stereo Valve Compressor
Our finest machine thus far. Limited number available now.
– The Original Hand Made in the U.K. All Valve Processed Compressor
– True Stereo from 2 Independent Compressors within (which can be linked)
– Seven Valves – including Mains Valve Rectification for Soft Start
– Goes up to 11! (Our compressors have always gone up to 11 !)
– Huge Hand Wound Mu Metal encased Input and Output Transformers
– Illuminated Meters by SIFAM
– Big Chunky Knobs on High Quality Pots
– New Hi Pass Filter on Valve Side Chain also offers Solid State Option!
– Rugged Construction with High Quality Components throughout
– Valve Pairs Selected and Matched for Top Notch Performance
In the 20th Anniversary Edition of the Chiswick Reach Stereo Valve Compressor you have the finest machine we have built thus far, with the all-valve processed input and output sections in the two compressors within, as well as the valve rectified mains supply. The side chain is valve rectified as previously, but now additionally includes a solid state option, with a high pass filter from bypass to 150 Hz. As well as the seven valves we have continued to use the huge mu metal encased hand wound  input and output transformers, and all of the wiring was done by hand in here the the UK – so still no printed circuit board!
For more information, or to register your interest, contact us now.