Originally published in The Mix Spring 1997
CHISWICK REACH, LONDON
If you think Recording Studios are becoming depressingly similar, then think on: Nick Smith investigates the all-valve Chiswick Reach facility…
Tucked away down a quaint side street between Fuller's Brewery and the old cherry Blossom boot-polish factory, in Chiswick, is a small office block. Surprisingly it's home to one of the most exceptional studios in the capital; one which claims to be the only commercial all-valve 24-track studio outside America. Chiswick Reach, run and owned by Nigel Woodward, boasts probably the finest collection of valve recording gear that you're ever likely to see currently in use, doing what it's supposed to do – making records.
Walking through the 300ft variable acoustic live area, with its perforated steel wall lining and into the control room, feels almost like stepping back in time. The control room is appointed with an antique, all-valve, hand-built 24 –channel console, a huge pair of JBL monitors that don't look a day under 20 years old and simply masses of valve gear in the racks. One of the most notable attractions at Chiswick Reach is Joe Meek's very own Black Box equaliser, built in 1958,and according to Nigel "probably the warmest, smoothest, equaliser ever made."
Nostalgia Trip? In many ways Chiswick Reach might be described as a homage to days gone by; a kind of paddock where these much loved old work=horses have been put out to grass. More importantly perhaps, this facility is a powerful reminder of the relevance of the valve sound today. A quick look at the client list will remove any doubt here : Edwyn Collins, Nick Cave, Dodgy, Manic Street Preachers Galliano, Primal Scream, Freak Power – the list goes on and on…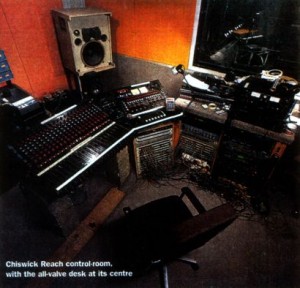 It's a bit of a surprise then to find out that the studio itself is a bit of a youngster in the grand scheme of things. Nigel takes up the story. "It all started out 4 years ago with the aim of making an all valve studio. It's a combination of factors – the desk itself is unique, the location is superb, and the valves themselves will appeal to all guitarists. The desk comes from Chalk Farm where they did all the Trojan records, and of course the Black Box is one of the few remaining pieces of equipment genuinely seen to have belonged to Joe Meek."
Ironically, Nigel is finding that he doesn't have to sell the valve angle quite so hard. These days, he explains, people seem to prefer the configuration simply because it's not digital. "The fact that it's not digital and the gear is valve seems – to a lot of people – to make it the perfect place to record." Interestingly though, he's finding that digital recordings are being booked in for mixing, where a layer of warmth can be added to the proceedings. "this seems to be the current thinking, that there has to be a co-existing pattern between valve and digital – certainly that seems to be the way for most people, although personally I would go for an all-valve situation. I know that not everybody would completely agree with that scenario, but the rality is in most cases that clients would like to have our valve equip[ment somewhere in the chain.
"Two different examples here: a lot of the sessions we've had recently have been a matter of getting the drums and bass down in our live room, getting that nice warm sound, which they then take of and mix with Flying Faders elsewhere. Whereas Primal Scream will come in with ADATs and the music already down. They want tomix on our desk despite the fact that it's not computer driven. I kind of feel that the valve desk must be somewhere in the equation, whether it's at the start or at the finish."
All-valve desk The desk itself was partly built by Chiswick Reach's resident valve supreme Mike Craig. A broadcast engineer who cut his teeth pirating on the high seas aboard the good ship Radio Caroline , Mike is the tech-head behind all matters valve at the facility. Mike is also in charge of product design. Product design? Er ..yes This is where the guys design and build the retro styled Chiswick Reach VK-1 Stereo Valve Compressor, described by Edwyn Collins as 'the best compressor ever made'- and he should know, as he claims to have tried every one to have rolled off of a production line.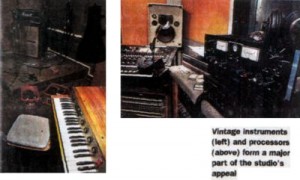 "All of the compressors are entirely hand-built" explains Mike, with no PCBs, just tag strip wiring, where the layout is critical because it's a balanced system throughout. The distortion is kept right down. By the fact that the unit is phase-combined at both input and output stages." It's a bit more involved than simply sticking a chip in a £300 box and getting a reasonable signal out of the other end. Valve selection is important, but according to Mike, the sourcing of components both for building the compressors and servicing the desk is not as onerous as you'd think. The Russians are mostly responsible for that.: the fact that they're so far behind the west in developing solid state technology means that components can be obtained without too much fuss. Even so, the market Mike is designing for isn't what you could describe as the fast-moving-consumer goods arena; "I think the market we're going for is where the user that wants something that specifically doesn't sound digital – like it hasn't gone through a DSP algorithm."
Working alongside Nigel and Mike is sound engineer Nick Terry, the man who actually operates all the valve gear. Nick, otherwise known as 'the engineer with ears' is a young bloke, born into the digital era , and yet he has no automation, no computer backup and he's sitting there with frankly old technology and being asked to create modern sounds. So, Nick, how do you stay sane? "I don't hear the sounds that come throught the desk as old sounds, something heard a long time ago. To me, and a lot of the guys I work with, it's all quite new and different from what we're used to. Also, there's this warm thing about it. But it's not just warm, it's got other things about it that make it sound really special- it's earthy, raw, punchy, direct…unprocessed."
No-frills service The word 'unique' is often used inappropriately, but in the caseof Chiswick Reach Studios its use is entirely justified. But while it's unique, it's also no frills; you won't find flash residential complexes, no banks of blinking lights, no voluminous wood-lined glass-celinged live area stuffed full of Steinway grand pianos. But it's got heaps of beautiful old gear, bags of character and a superb pub called The George & Devonshire just around the corner. It's a sort of no-frills good-value-for-money setup where sound is everything. As Nigel Woodward says "We're simply after professional standards of quality. We want the best possible sound we can get, regardless of whether it's new technology or old technology. It just so happens that the majority of the time we do like the way that the old technology sounds best, because they got it right in the first place. The sound relies on a combination of factors and gear, which is hopefully exactly what we've got here."
FACT FILE Equipment List Mixing Desk: Hand built all valve console, 20channels with mic/line inputs, 3 band eq's, prescence lift/cut and hi pass filters, 4 channels with full graphic EQ, 4 direct channels, 8 echo returns.
Monitoring: JBL 4502 main monitors, JBL Control1+, Auratones, Amcron DC300A, And Leak TL25 valve amps.
Microphones: Fi-cord (early valve Calrec) FCE1200 x 2, Neumann U67 (valve) x 2, KM54 (valve), U87, RCA 10001 ribbon (c. 1940), Lustraphone Ribbon, RCA ribbon, STC 4038 ribbon x 2, STC Ball and Biscuit x 2, Tannoy Ribbon, AKG D112, D190 x 2, D224E, Oktava MK219 x2, Shure condensers plus various dynamics
Tape Machines: 3M M79 24 track, Brenell 8 track, Leevers-Rich 2-track (valve), EMI BTR 2 track (valve) , Revox B-77, Tascam DA30 MkII Pro DAT recorder, Atari 10040ST, Sony DAT recorder, Fostex 4030 synchroniser, XR300 SMPTE
Equalisers: The Black Box (valve), Oban parametrics (pair) , Klark Teknik 15-band (pair), Yamaha 27 band (5) , Leevers Rich 7 band (4) , AEE graphic
Other outboard: IBC FX limiters (valve), Electrospace Strate Gates, Kepex Gates (5) , Fairchild Conax Treble Limiter (valve), Drawmer Dual Gates, Yamaha GC2020 Compressor limiters Alesis3630 compressor/limiter, Chiswick Reach stereo valve compressor (valve) 4 pairs
Reverb/FX: EMT stereo plate reverb (valve) , Ursa Major Space Station, Eventide H949 harmonizer, Digitech DSP 128, Yamaha SPX90, Wem copycat (pair), Alesis Microverb and Midifex, Bel BD80 sampler/delay, Cyclosonic panner, Chiswick Reach distortion unit (valve)
RECENT CLIENTS Edwyn Collins, Nick Cave, Dodgy, Manic Street Preachers, Primal Scream, Freak Power
RATES Music recording, overdubbing and mixing on 24 track (8-track prices vary slightly): per 24hour lockout £400. Per 14 hour day £400. Per 10 hour day £330 pounds. Per 8 hour day £265. Hourly rate £44 More from Nigel Woodward 0181-995-2647